MANUFACTURERS OF PIZZA ACCESSORIES IN NORTH AMERICA
With Les Industries Norjac, pizza manufacturers have the perfect partner. Manufacturers since 1988, we manufacture and distribute a complete range of plates and pizza accessories in North America and South America.
Aluminum pizza peel
Made of professional quality aluminum, this pizza peel is thin, lightweight and easy to clean. The wide blade is bevelled on the back to easily slide under the pizza. Its smooth wooden handle is welded to the blade for maximum strength and durability.
A classic style that is easy to clean
Professional quality rigid aluminum construction
A hardwood handle (maple, cherry or oak)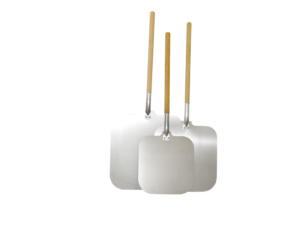 Different sizes to meet your needs
| Item | Size | Handle Size |
| --- | --- | --- |
| 412-12 | 12″ x 12″ | 12″ |
| 412-22 | 12″ x 12″ | 22″ |
| 412-36 | 12″ x 12″ | 36″ |
| 412-48 | 12″ x 12″ | 48″ |
| 414-12 | 14″ x 14″ | 12″ |
| 414-22 | 14″ x 14″ | 22″ |
| 414-36 | 14″ x 14″ | 36″ |
| 414-48 | 14″ x 14″ | 48″ |
| 416-12 | 16″ x 16″ | 12″ |
| 416-22 | 16″ x 16″ | 22″ |
| 416-36 | 16″ x 16″ | 36″ |
| 416-48 | 12″ x 12″ | 48″ |