MANUFACTURERS OF ROASTERS IN NORTH AMERICA
Discover a new way to cook meat with Les Industries Norjac. We have invented and patented an innovative new cooking accessory for barbecues and meat lovers. We are the only ones to manufacture and distribute these roasters in North America and South America.
Like our pizza accessories and pie plates, the roaster is made of professional-quality rigid aluminum that guarantees great durability and reliability.
Roasting Pan
A unique cooking experience
Ideal for baking or barbecuing, this simple and strong accessory allows meat to be cooked safely, healthier and more evenly. Easy to clean and store, this perforated aluminum plate with raised edges has been specially designed to preserve the tenderness of the meat while making it lighter. The perforations allow heat to penetrate easily into the heart of the meat and gradually and safely release excess fat.
The result? A delicately grilled meat, tender and less fat.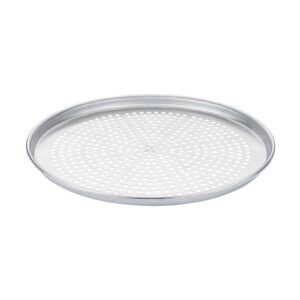 Roasters
| Item | Size | Package |
| --- | --- | --- |
| 912 | 12″ x 1″ | 6 |
| 914 | 14″ x 1″ | 6 |
| 916 | 16″ x 1″ | 6 |